Warm Hands

by Miki Onosaki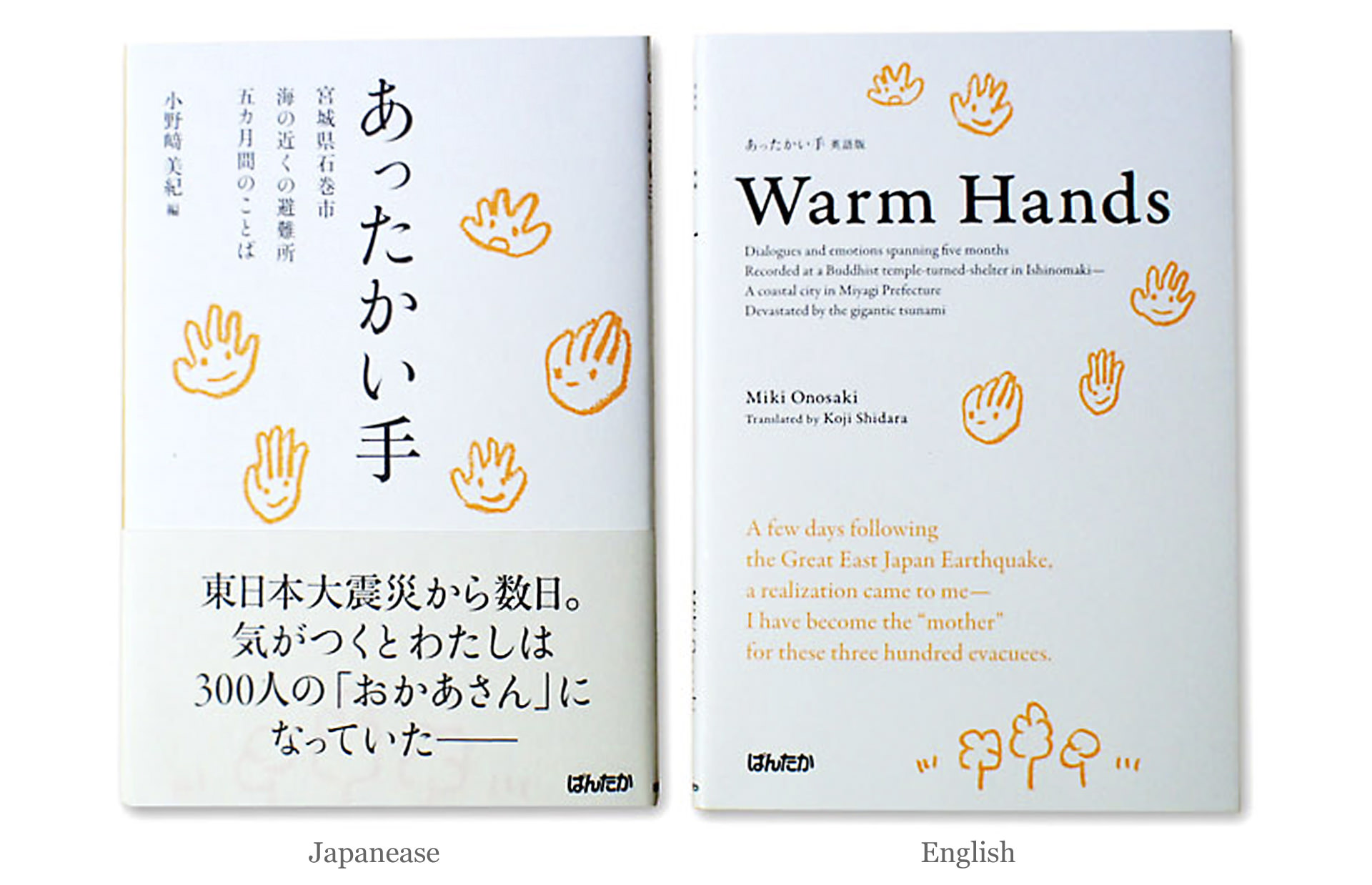 A Soto-Zen Buddhist temple Dogenin, located on high ground in Ishinomaki's Watanoha district, received many evacuees from the day the earthquake struck on March 11, 2011.
The local residents who ran for life to the temple reached 400 at peak times, huddled together in the limited space. In the book Warm Hands, Miki Onosaki, the wife of chief priest Rev. Shutsu Onosaki, recorded what she observed of those people as they faced the daily challenges of shared shelter life and gradually regained smiles.
The book left a deep impression on ❐ Koji Shidara, lecturer at Tohoku University's Global Learning Center, who offered to help spread the message of the poems to the world by translating the entire book.
Furthermore, responding to calls to make an audio recording of the collection, ❐ Tatsuya Inagaki, a pianist-composer of Sendai City, kindly offered to compose music to accompany each poem, and the CD version of Warm Hands was produced.
A Prayer—In Place of Foreword
(from
Warm Hands

)

What in the world was that earthquake?

To send in such humongous and rowdy waves and smash up my precious hometown with people running all about and floating up cars only to toss them far away; to shake those people who had climbed up on trees off of them, tearing up with gaping open mouths the precious homes of all the people.
Those gigantic feet of the waves had kicked about all along the sea coast, causing my favorite beach of Nagahama to be vanished and the embankment uprooted.

When they come into bloom, who will those hamayu (spider lily) flowers be thinking of?

Keeping Ohana, the cat our daughters had got from a friend, in my pocket, I told her that I would be with her no matter what.
I had taken it into my head that my daughters would not be able to come back home if Ohana was gone.
Nam-kanzeon, nam-kanzeon—I kept saying the Buddhist chant together with Ohana while looking after some 400 evacuees.

No water, plugged-up toilets, telephone out of service, mobile phones no use.
People need to be disinfected; little shoes of children are squeezed under the big muddy shoes; people don't bother to greet one another; some are shouting at the top of their voice in my home…

―Who on earth are you!

―It's cold! It's dark! It's tight! Coughing! Attack of fever! Vomiting!

One couldn't be off guard even for a second with one aftershock after another—this was what it was like at this 950-year-old temple into whose family I was married.

On the morning of the third day, our first daughter Mayumi walked back home drenched up to her chest after managing to wade through muddy sea water.
I chanted with such thankfulness nam-kanzeon, nam-kanzeon.

Around noon on the fourth day, our second daughter Shizuka came back home safely from Mt. Haguro-yama where she had evacuated.
I chanted nam-kanzeon, nam-kanzeon with tears pouring down.

Everybody in the family had been found safe and sound.
The following morning, I was finally able to wash my face, draw my eyebrows with pencil and put on a faint lipstick.
By then I was the mother of 300 people.
―Obon, the festival of souls, is a happy time with all those departed people coming back to see us on this side of the world.
―(Happy? How on earth? Who can ever be happy!)
After the disaster, the 49th day has passed, two months have passed, and we are about to hold the 100th day memorial service.
My desire is to see to it that those people who are in the depths of sorrow may at least be able to greet the souls of those departed with tears of joy by obon.
My life has been spared from this disaster—I dedicate it to be on the side of my dear Buddha.
If I should ever forget Buddha, there might be another rampage somewhere.
But as long as there remains the heart to pray within everybody,
I will not allow myself to be discouraged as I try to rise up again.
I earnestly seek protection by the grace of Buddha.
Nam-kanzeon, nam-kanzeon-daibosatsu (Buddhist chant).
Gassho –hands joined in prayer
Miki Onosaki Dogenin Temple
May 10 2011
An extract from
The Children at the Evacuation Center,
issued by Dogenin
About the Publisher
| | |
| --- | --- |
| Publisher | Pantaka, Inc. |
| Address | MC88 Bldg 2F, 21-1 Nishinippori 2-chome, Arakawa-ku, Tokyo 116-0013 |
| Telephone | 03-3802-3450 |
| FAX | 03-3802-8871 |